HOME GYM DESIGN
We design and fit out bespoke Home Gyms across the UK 
+20 YEARS OF EXPERIENCE
Bespoke Home Gym Design across the UK. Our dedicated and
experienced team will help bring the health club home, in a premium and sustainable way to reset your life. Our fitness experts provide a service tailored to your space. We will guide you through the whole process, working with high end fitness and wellness equipment. Whether it is a garage gym, the revamp of an underutilised bedroom, a garden gym. a shed or a full new build, we are here to boost every athlete under that roof! 

Bring more Wellness Home
HOME GYM DESIGN & PLANNING
25 years of experience helps us to bring the health club home in a sustainable way to reset your life. Learn how to transform your space, or get some inspiration for that gym project you've been thinking about with a virtual appointment with one of our Fitness Design Specialists
LET´S TALK
CUSTOMISE YOUR IDEAS
Customise your home gym flooring, gym racks and storages, and even your walls.
Your goal, your space, your choice, let us make it come alive for you! 💪 Say it the only way you can, with a catchphrase, nickname, goal, logo, football team and more...
Give it extra 🖤 with your favourite colours. Our metal gym frames, are proudly made in the UK, giving us the flexibility you need to choose ANY colour you love...really!

+ INFO
Stronger Wellness
WHY CHOOSE US?
Like our bodies, the earth is the only place we have to live, so let's maximise the future of both. We will offset the carbon footprint of your project and much more. Proud to be a climate positive business.
Make all of the space usable by utilising our award winning multipurpose fitness & gym equipment. Including smart storage solutions and gym flooring that could be used for different activities. You may not need as much space as you thought. 
25 years of creating profesional gyms and training in those spaces. Privileged to have worked with iconic fitness equipment brands and gyms.  You don't need to know, we know the tangibles and intangibles on how to make it come alive.
Best in class products with several awards from Red dot design award to Women's Health and more. Better yet check out our 'excellent' reviews score on Reviews.io or Google. 
'It's not necessarily the photo-readyroom; it's how it makes you feel when you enter it, what it empowers you achieve' From home gym flooring, to walls and more, we can personalise it for you.
From concept creation to day to day, we got you. Our in-house design team will create your vision, while our support team will ensure your home gym stays up and running over time.
FIND THE RIGHT SPACE FOR YOUR WORKOUT
Gym equipment & planning for your home fitness.
About our process
RESET YOUR LIVING SPACE
Don't even know where to start? Take the guess work out of it, you don't need to know it all, that is what we are here for. Try not to randomly order bits online, book a virtual appointment with one of our Home GYM Design Specialists and we can give you some guidance.
GYM DESIGN
LOST WITH FLOORING?
'I am lost. I don't even know where to start'

If we had a penny for every time we hear that ha! Let us guide you as we have fitted hundreds of locations, so we reckon we have a few ideas to share with you, plus we love it! Find the right gym flooring that gives you the perfect balance for aesthetics and performance of the movement but also considers vibrations, acoustics, longevity and sustainability.
GYM FLOORING
HOME GYM EQUIPMENT
It doesn't matter what workout you prefer, we have something for every movement lover, and that is everybody! We have Home Gym Equipment for cyclists, lifters, yoguis, crossfitters, runners and more. Here is a quick preview at some of the fitness equipment we offer. Every home project is unique and so is the kit, specially for our custom made gym kits, so do not hesitate to ask us if there is some fitness kit your require.
Our team
WHO IS BEHIND STRONGER
Movement lovers, performance seekers, engineers and coaches who never left their lycras and have the deep believe that your body is the greatest gift you will ever own. Here to maximise your life whilst keeping in mind our Earth resources.
Crossfitters, runners, lifters, boxers, cyclists, yoguis, who are lucky to have a full time 'job' creating life changing spaces for others🤸
ABOUT US
HOME GYM PROJECTS
So many goals, so many spaces!, Here we leave you a little sneak peak of some of our gym projects. If you have a goal and a space, we have the expertise and fitness equipment to transform your life. We love making it happen and we have seen it done so many times. Our amazing clients are a great example of social proof with their online mentions and testimonials.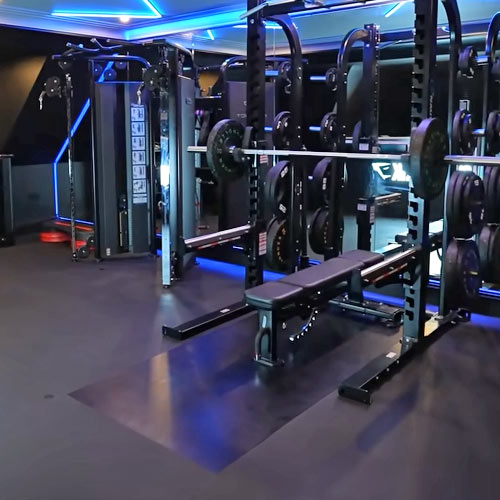 Vikkstar HOME GYM
Home Gym transformation with Gymshark and Vikkstar. The Stronger Team joined Gymshark for this challenge to transform the life of this famous youtuber with a new home gym design and install.

Full Story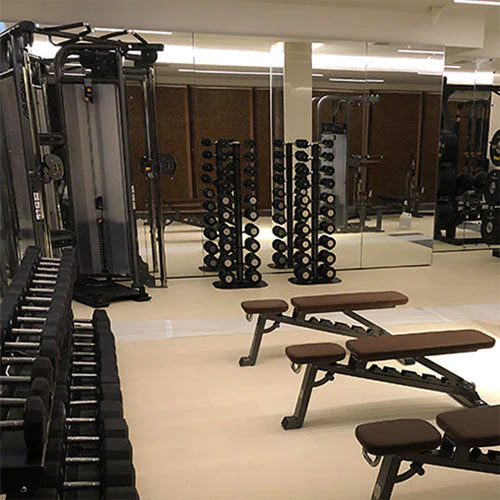 BASEMENT HOME GYM
Back to basics with this simple colour palette in this high end full gym refurb in the heart of Kensington London.

Home Gym Guide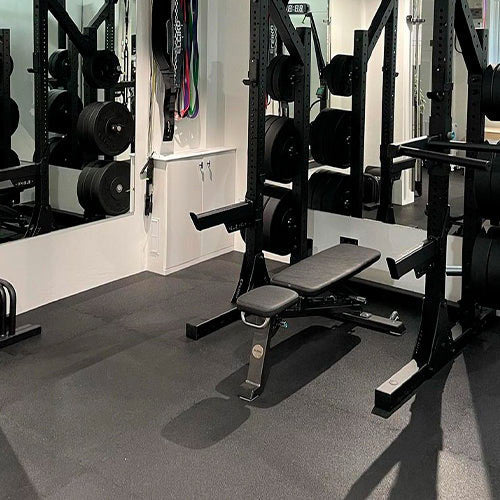 GARAGE GYM CONVERSION
A tired space full of clutter can totally transform your life. Eco conscious family wanted our eco flooring for this project.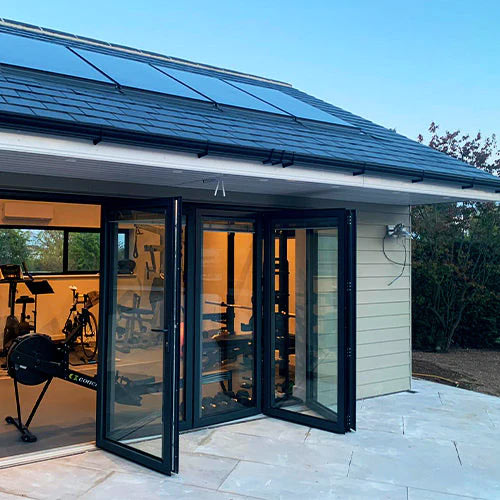 OUTDOOR HOME GYM
Full new build with this outdoor stylish 'shed'  Racks, cardio, strength and more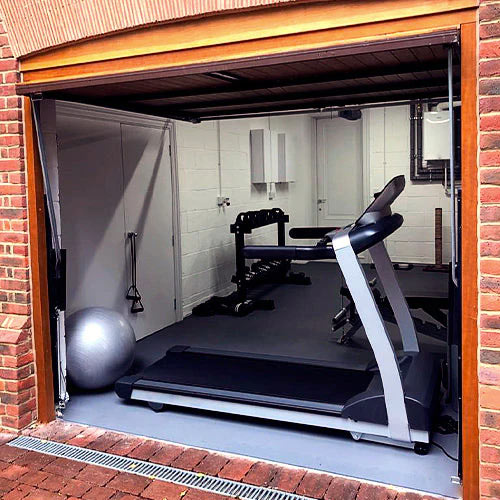 GARAGE GYM
'I got some bits over the years but I want to organise it and have the right kit for my programme' Gym garage for every budget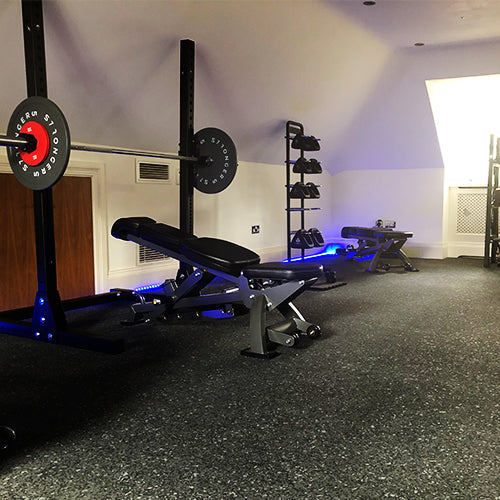 HOME GYM REVAMP
'We have an unused entertainment room at the top of the house, while we are training uncomfortably at home' New Gym Flooring and gym equipment to lift their game!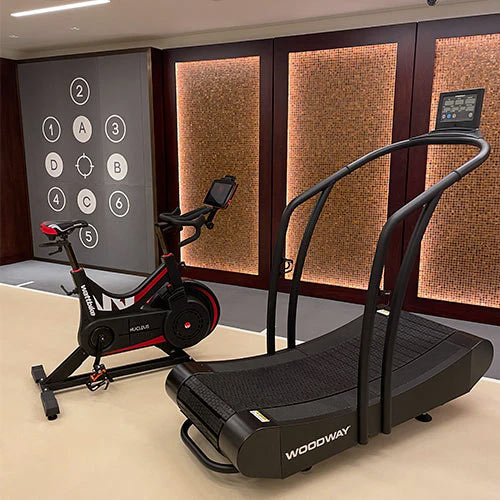 GYM STUDIOS ZEN AND BLAST
Studios zen and full blast in this stylish gym within an apartment block in London. Floor to walls, everything needed to be in full use and part of the experience.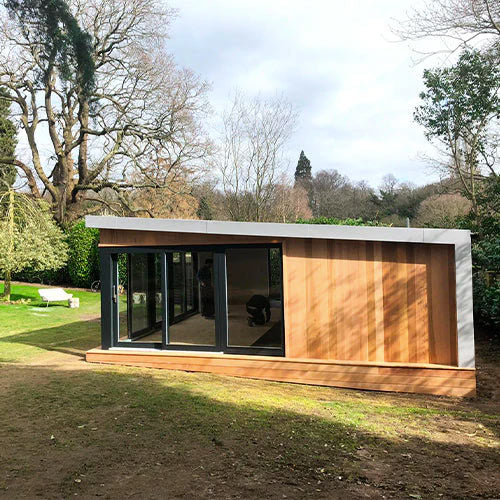 HOME GYM SHED
'My son is killing my home floor and his bits are everywhere, I want everything out' Full gym outdoor building. Flooring and a combination of pilates, strength and boxing.
Reset your life
WITH ANY HOME SPACE
Give yourself and your family no excuses to embed wellness into your day to day life! We can help you select the right gym equipment, create a blissful or an empowering, full of 'personal bests' euphoric experiences. Maximise your space and optimise your life. Our fitness experts work with you to create a custom home gym layout for you, helping you maximize both your budget and your workout space. Call us now for a free consultation.